James K. Logan, 1929 - 2018
September 8, 2018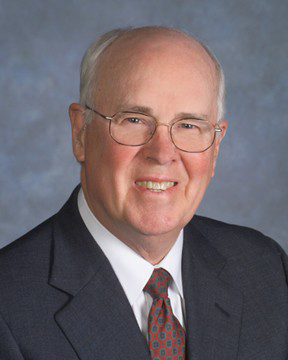 The Foulston Siefkin law firm is saddened to announce the passing of our dear friend and retired counsellor, James K. Logan. Jim passed away September 9, at his home in Olathe, KS after a battle with cancer. He joined the firm in 2001 after serving for more than 20 years as Judge of the U.S. Court of Appeals for the Tenth Circuit. Judge Logan was a graduate of the University of Kansas and the Harvard Law School, where he was an editor of the law review. He became a professor at the KU law school early in his career and was named Dean at age 31, serving also as visiting law professor at Harvard, Texas, Stanford, Michigan, and Duke Universities.
In his private law practice, Jim was a premier tax lawyer, corporate lawyer, estate planner, mediator, and all-around counselor beloved by his clients. He was also a historian, organizing and advising the Historical Society of the Tenth Judicial Circuit and serving as president of the Kansas State Historical Society. He leaves an unmatched legacy as a lawyer, author, teacher, and judge.
The firm expresses its condolences to Jim's wife, Bev, and four children, 10 grandchildren, four great-grandchildren, and his family and friends.