Global Reach
Identifying appropriate legal counsel 500 or 5,000 miles away can be a daunting task. Foulston Siefkin is proud to be the only Kansas law firm chosen to be associated with the four prestigious national and international organizations listed below. These affiliations allow Foulston Siefkin to give our clients quick access to competent counsel all over the world.
Lex Mundi
---

Foulston Siefkin LLP is the exclusive member firm in USA, Kansas for Lex Mundi – the world's leading network of independent law firms in more than 125 countries.
As part of the Lex Mundi network, we can provide our clients with preferred access to more than 21,000 lawyers around the world – all from a single point of contact.
Individually, each Lex Mundi member firm is a leader in its local market. Collectively, Lex Mundi firms provided global legal resources with unmatched depth and breadth. Working with other Lex Mundi firms, we are able to seamlessly handle our clients' most challenging cross-border transactions and disputes.
GGI Global Alliance AG
---


GGI - your gateway to the global marketplace.
As members of GGI, one of the top ten international accounting, consulting and law firm alliances, we are able to deliver the best possible advice on a global scale. Through GGI we have access to experts around the world who are able to give advice on local regulations, compliance and go-to-market strategies.
GGI's broad international presence opens up a gateway to the global marketplace for both us and our clients. Through our GGI membership we have access to high quality firms in nearly every major financial and commercial center worldwide. This remarkable facility applies whether you are looking for business opportunities beyond national boundaries, or need international support in addition to services in your home market.
We are here to help and support your success wherever your business takes you.
For more information, visit GGI (www.ggi.com) online.
About GGI - Disclaimer
GGI is a global alliance of independent professional firms. GGI Global Alliance AG, a company incorporated in accordance with the laws of Switzerland, operates solely as an administrative resource of the Alliance and therefore provides no legal, audit or other professional services of any type to third parties. Such services are provided solely by GGI member firms in their respective geographic areas. GGI and its member firms are legally distinct and separate entities. These entities are not and shall not be construed to be in the relationship of a parent firm, subsidiary, partner, joint venture, agent or a network. No member firm of GGI has any authority (actual, apparent, implied or otherwise) to obligate or bind GGI or any other GGI member firm in any manner whatsoever, equally, nor does GGI have any such authority to obligate or bind any member firm. All GGI members are independent firms, as such they all render their services entirely on their own account (including benefit and risk), without any involvement of GGI and/or other GGI member firms.
State Law Resources
---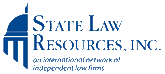 State Law Resources, Inc. is a national network of independent law firms – one from each state and two from the District of Columbia – selected for their experience in administrative, regulatory and government relations at the state and federal level.
Employers Counsel Network
---


Foulston Siefkin is the only Kansas law firm selected to be associated with Employers Counsel Network (ECN). ECN is an organization of independent law firms in the United States and Canada that are recognized for their extensive knowledge and literary contributions in the field of employment and labor law. Comprised of top-level law firms in all 50 states – plus Washington, D.C. and Canada – NECN member law firms advise and represent employers in workplace-related issues and disputes. This affiliation allows Foulston Siefkin quick access to competent employment attorneys across the United States and Canada.